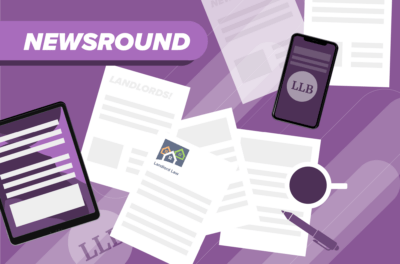 Welcome to our weekly Newsround where we give you all the trending housing news, and this week the Renters Reform Bill is very much in the news.  But first –
New Right to Rent guide
The Home office has issued an update to the Right to Rent guide. The updated version gives guidance to landlords on how to avoid discrimination when carrying out checks. The updated guide says
It is unlawful to discriminate against individuals on grounds of protected characteristics, including race, when entering into residential tenancy agreements.

Landlords should apply checks to all occupiers, whether or not they may already believe the occupiers to be legally in the UK.
You can find the new updated version here.
Another Housing Minister asked to stand down
Nine months after her appointment, Rachel Maclean MP, who had a major role is getting the Renters Reform Bill through parliament has been asked to step down by Rishi Sunak. She says
[I am] disappointed and was looking forward to introducing the Renters Reform Bill to Committee tomorrow and later the Leasehold and Freehold Bill.
She has always tried to reassure landlords that the Renters Reform Bill would not be to their detriment. Many are disappointed by  her departure, Timothy Douglas from Propertymark saying
This makes it difficult for any housing legislation, whether that's the Renters (Reform) Bill or leasehold reform, to move forward when Housing Ministers keep coming and going.
The Renters' Reform Coalition think this move is 'shambolic' at such a key time of the committee stage for this bill.
Lee Rowley will not take on the job from Rachel Maclean. One can only hope this doesn't de-rail the bill.
Government to overturn landmark Rent Repayment Order case
The government is set to overturn the landmark case of Jepson vs Rakusen rent repayment order decision from the Supreme Court earlier this year. It plans to do this within the Renters Reform Bill.  The case decided that tenants cannot go after superior landlords, property owners  leaseholders for rent repayment orders.
Levelling Up minister Jacob Young says
This new Clause, which is intended to be added to Part 3 of the Bill, will allow such orders to be made against superior landlords, will extend the period that can be taken into account when calculating payments due under such orders and will make provision about how payments are to be calculated and made in cases where there are multiple landlords or multiple orders.
This could have a huge impact on landlords, and many think it could be another nail in the coffin for landlords to leave the sector.
However, the new rules are really aimed at the 'rogue' landlord sector which use multiple landlords in order to make it difficult for tenants to bring claims.  So in that respect, it is good news.  It should not have any effect on good landlords who provide decent properties and do not use 'rent to rent'.
Court reforms before abolishing section 21
Ben Beadle, chief executive of the NRLA has been giving evidence on the Renters Reform Bill to MP's, stating that the courts must be reformed first before section 21 is abolished. He says that responsible landlords need to have alternative grounds they can rely on and have confidence in the system that they are to rely on.
This includes putting 'significant investment' into staff numbers within the court system. Without a robust court system, tenants will suffer, as without it landlords could leave the market.  Plus of course it will make it harder for landlords to evict anti-social tenants whose behaviour impacts most on other tenants and occupiers living nearby.
Recent figures just released by the Ministry of Justice claim that it can now take over half a year for courts to process possession claims from private landlords.
He says
The sector faces its most dramatic legislative upheaval in decades and, as a result, landlords need to have confidence that the Renters Reform Bill's proposed changes will allow them to continue to deliver high-quality private rented accommodation.

With the market continuing to face widespread instability, the government simply can't afford to ignore the need for court reform.
However, others, including members of the Labour Party, are calling for the section 21 ban to be implemented immediately and without waiting for the court reforms, saying that the government has had 13 years to improve the courts and the section 21 ban should not be delayed further.
Indeed Angela Rayner has promised to implement the ban on the first day of a Labour Government.
Benefit tenants and applicants with pets and children are still penalised
It looks like attitudes have not changed, according to a new poll out by Confused.com, which claims that 44% of landlords will not let to tenants who have pets and 15% will not let to those with children either. Further statistics claim that 43% of landlords will not let to tenants on benefits despite the looming new legislation under the Renters Reform Bill.
Landlords claim that their reluctance is due to the increased risk of rent not getting paid and properties not being suitable for either children or pets. Further stats reveal that 84% of landlords would not rent to a tenant with a history of rent arrears, 44% would not let to tenants who require properties to be adapted. Only 7% of landlords are willing to accept anyone.
Amendments to the Bill announced yesterday are to include clauses that ban landlords from 'discriminatory practices which make it harder for people who are on benefits (and people who have children) to obtain a relevant tenancy'.
Some shocking figures in that report.
However, as landlords still have the right to choose their tenants, it's hard to see how these discrimination prohibitions are going to have any real effect. Particularly where rented properties are in such short supply, meaning that landlords have a wide choice of applicants to choose from.  All they have to do to comply with the rules is to 'consider' applicants on benefit/with pets/with children, and then choose someone else.
Snippets
Desperate plea for private landlords to help social housing shortfall
More than 35,000 households in England will be evicted by time no-fault notices banned
'They've attacked families with cordless drills': the man taking on rogue landlords
British Gas says landlords need more grants to go green
Bed bugs and landlords' duty of care to tenants
Rogue landlords should have properties confiscated, says MP
Newsround will be back next week.
The post Landlord Law Newsround #317 appeared first on The Landlord Law Blog.