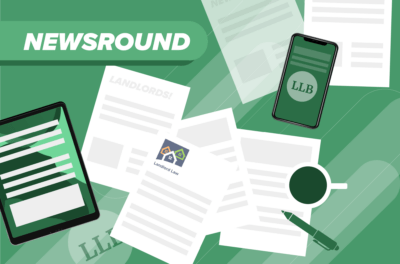 Welcome to our Newsround, let's see what has been happening in the housing news this week.
The King's Speech, the Renters Reform Bill and massive court delays for eviction
We have had the first Kings Speech for 70 years, and it included reference to the Renters Reform Bill, which will shortly enter the committee stage.
So that will be interesting!
For many people, the main point of the Renter's Reform Bill is the abolition of section 21.  The government though, have agreed to delay the implementation of this until the court eviction process has been improved.
Tenant organisations are outraged by this, but it is a sensible measure.  Data from the Ministry of Justice shows that it is currently taking over half a year to process legitimate possession claims by private landlords.
Reasons for eviction
Now, many of these eviction claims (perhaps the majority) are not, as many tenant organisations seem to assume, just landlords turfing out tenants for no reason or because they have dared to complain or because the landlord wants to increase the rent.  They are because the tenants are in arrears of rent or because the tenants need to be evicted due to anti-social behaviour.
In both of these situations, evictions need to be processed quickly –
Because landlords need to be paid (after all they have their own expenses to pay),
And anti-social behaviour can be intolerable for other tenants and local residents
Many landlords are also evicting tenants because they are selling up as they can no longer make any profit from renting.  Indeed it may be costing them money to continue!
Improving the courts
So, ministers need to boost staff numbers in the courts and outline clearly what their proposed digitised system for handling cases would look like.  Although, as the Independent Landlord has pointed out
The briefing notes to the King's Speech … refer to  "an initial commitment of £1.2 million to begin designing a new digital system for possessions". In other words, they've still not designed the system. This £1.2 million is just to start the process.
Bearing in mind that we have an election coming up, goodness knows when the Courts will be able to implement this.
NRLA comment
Ben Beadle, Chief Executive of the National Residential Landlords Association (NRLA), said:
Responsible landlords and tenants need to be confident that the courts will handle possession cases swiftly and fairly when section 21 goes. At present that is not happening.  Ministers have been warned for many years that improvements to the justice system have been needed. It is disappointing therefore that little to no action has been taken to address this so far.

The Government needs to get on and build confidence in the ability of the courts to handle legitimate possession cases.
Figures published by UK Finance also show that the number of buy-to-let mortgages in arrears has risen by 29% between the second and third quarters of the year.  Which could result in properties being repossessed and tenants being evicted by their landlord's mortgage company.
Ben Beadle said:
With the demand for rented housing massively outstripping supply, we need a healthy and vibrant private rented sector. Today's figures from UK Finance are therefore extremely worrying. The Chancellor needs to undo the damage done by tax hikes on the sector and reinstate mortgage interest relief in full for the private rented sector.
Airbnb stirs up a sub-letting storm
Airbnb has been accused of being irresponsible and misleading by suggesting that over half of renters say they would rent out their spare room if they were allowed to do so.
This has caused a rumpus within the landlord industry, with one landlord left fuming when she found out that her property was being advertised by her tenant on Airbnb without her permission.
Casework director at Landlord Licensing & Defence, Des Taylor, says that sub-letting by a tenant violates the terms of most tenancy agreements and in turn passes on legal liabilities for landlords that could see them faced with fines of £10,000's.  Subletting can turn a property into an HMO (house in multiple occupation) and HMOs are subject to strict regulations and some are subject to licensing rules. Furthermore, landlords do not have to knowingly commit an offence to be found guilty.
He says
Most tenants and many landlords do not realise that it only takes three people, where one is not related to all the others, to make an HMO. In legal terms, it is 'three or more persons from two or more households'.

Airbnb must now explain to its hosts and potential hosts the legal consequences of sub-letting rooms in their homes and how legally dangerous this would be.
Although, note that licensing normally only kicks in when you have five occupiers in two households.  Unless the Council has an additional or selective licensing scheme.
You can read more here.  See also our series on Airbnb here.
Shocking landlord hit with £480,000 HMO fine
Westminster Magistrates Court have found HMO repeatedly offending landlord, Mohamad Ali Rasool, guilty of putting tenants at risk by renting out a property full of fire risks and damp. Despite having had warnings from the council, he still did not apply for any licenses for the HMO.  He was eventually raided, where officers found defective fire doors, inadequate fire separation between rooms and burnt-out and loose electrical sockets.
He was hit with a whopping £480,000 fine. The property had so much rising damp there were mushrooms growing, window frames were all rotten, and with no kitchen facilities, tenants were cooking in their rooms using camping stoves. Absolutely shocking conditions.
Kensington and Chelsea councillor Cem Kemahli said
If you are offering poor quality accommodation, we will find you and we will come after you. Our landlord licensing schemes are seeking out the bad operators to ensure safer homes for everyone and a fairer market for good operators.
We can only hope that this will deter other rogue landlords, and we look to another council that is claiming success at tackling their unlicensed HMO's whilst also making the neighbourhood cleaner.
 Council cracks down on HMO waste levels
Coventry Council has run a pilot project on just two of its streets aimed at reducing unsightly rubbish and waste levels outside HMO's, and has fined landlords more than £100,000. Residents were concerned by the high amount of waste levels.  So enforcement officers made visits to monitor waste, check there were enough wheelie bins for the number of tenants and advise tenants on their rights and responsibilities.
The officers also reminded landlords that breaching their license conditions was a criminal offence.  Their visits also found out five properties that were unlicensed which were served penalty orders.
Councillor David Welsh said
We wanted to make the neighbourhood better and reduce the amount of waste building up on the kerbside. Part of our approach was to link different services together and talk to landlords and highlight the need to keep the neighbourhood cleaner.
This initiative has now meant that landlords have invested over £7,000.00 into the area, ensuring that their properties maintain the minimum standards. They hope to continue this initiative.  It would be nice if other Council's could do likewise.
Snippets
Landlord fined thousands AGAIN for same offence in same building
Mum fears house mould has caused her son's illness
Mystery shopper research 'proves landlords racially profile applicants'
Tory MP says court delays MUST be fixed before Section 21 is abolished
Labour promises rapid housing action after 'years of Tory paper promises'
Wales – Use old buildings to tackle crisis, says charity
Newsround will be back next week.
The post Landlord Law Newsround #316 appeared first on The Landlord Law Blog.