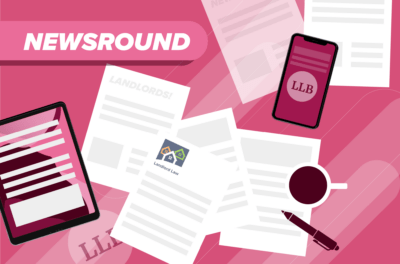 Another week and another Newsround, lots of news this week and we start with some good news for HMO landlords and tenants as we head into November.
Government axes banding of HMO individual rooms
The government announced earlier this week following a consultation by the Department of Levelling Up, Housing and Communities that it is to end charging council tax for each individual room in an HMO and it is expected to take effect before the end of  2023.
They will now be classed as a single dwelling making it easier for councils and landlords and tenants will no longer have to pay large council tax bills. The NRLA have estimated that an HMO tenant living in a single room could now save up to £1000.00 a year.
Ben Beadle says
We are delighted that the Government has listened to NRLA and others and will end the unjust practice of charging council tax on individual rooms. Not only will it save tenants money, it means landlords will once again be able to let rooms inclusive of council tax, making it easier for renters to budget.
Some sensible decisions for a change with benefits to landlord and tenant.
New Ruling: Property Guardian providers need HMO licenses
The Court of Appeal this week has upheld the previous decision in the case of Global 100 Ltd v Jimemez and others, ie that property owners who use guardian providers must now, if the conditions to create an HMO apply, obtain an HMO license for each building occupied by them, and failing do to so would mean that guardians can apply for rent repayment orders against the immediate landlord.
The case concerned an empty building in London which was occupied by property guardians who all shared a communal bathroom but were not related. They claimed this constituted a licensable HMO, and as there was no license, this amounted to an offence under the Housing and Planning Act 2016.
Global argued that the property guardians' occupation did not constitute the only use of the property; this was not for the purpose of their accommodation but more to protect the vacant property. The Upper Tribunal disagreed and held that the property guardian's occupation of the living area was the only use of the property, and it was secondary that it would prevent trespassers  or malicious damage.
Therefore, as the property met the requirements for a licensable HMO, an HMO license was required. The company has now had to pay the rent repayment order to the property guardians. It is also a criminal offence to manage an unlicensed HMO.
This case will have a big impact on all property owners who use property guardians to protect vacant properties.  Property Guardian companies have long assumed that their situation was exempt from normal housing legislation but these assumptions are no longer justified, at least not in all respects.
New electrical checks guidance published for landlords
A 'Best Practice Guide 10: Electrical safety standards in the private rented sector' has been published by the charity Electrical Safety First. This is the first guide of this kind to been produced. It has been written to help electricians, landlords, letting agents, and tenants understand what inspections and testing is required and how to produce a detailed report.
It helps electricians understand better what is expected of them and how to report properly, and for landlords and tenants, it explains what EICR is, what questions to ask the electrician and how to prepare for a check.
Whilst it is mandatory for landlords to carry out an electrical condition report, these reports can vary considerably and are not very easy to understand.
David Powell, electrical installation safety engineer at Electrical Safety First says
It is setting a bar about what is the minimum standard to expect, and what should be inspected and tested. It also sets out how to record findings clearly in the extent and limitations section of an EICR and elsewhere in the report.

Many organisations have collaborated and agreed on this guidance, and it has also had input from several industry bodies, government departments and letting agents.
The guide is free, and can be downloaded here.
And finally today we touch on some challenging comments that have been posted on X, between the Renters Reform Coalition and National Residential Landlords Association.
Landlords call out the Renters Reform Coalition's claims
Social media has been the sounding platform for both the NRLA and Shelter this week. Recently, claims on social media by a leader in the Renters Reform Coalition have suggested that all grounds for repossession should be discretionary.  Ben Beadle, CEO of the National Residential Landlords Association has hit back saying
This is not a stance the NRLA agrees with, but we would appreciate the opportunity to understand your respective organisations; position on [it].
He goes on to challenge their comments, for example, regarding a tenant having the right to have as many pets as they want, arguing that it might be that the property is just not suitable for a certain type or number of pets, or be against the wishes of other tenants.  Also asking various questions about the grounds for possession such as
Under what circumstances would it be acceptable for a tenant found guilty of anti-social behaviour to remain in a property?
He ends by asking for both organisations to have a joint approach in lobbying the government to reverse the freeze on Local Housing Allowances.
You can read Ben Beadles' letter in full here.
Snippets
TENANCIES: Housing minister bats off calls for two year fixed periods
Birstall couple face long wait for repairs to mouldy flat 
Asylum seekers & HMOs – legal challenge to rules relaxation
Student accommodation facing 'unprecendented problems' warns expert
Landlords and homeowners face similar retrofit challenge
Shock Rent Controls legal judgement in Scotland – landlords and agents "disappointed"
Social landlord criticised over "deeply distressing" tenant suicide
Newsround will be back next week.
The post Landlord Law Newsround #315 appeared first on The Landlord Law Blog.